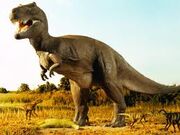 Object Information

Name

T-Rex

Type

Creature

Uses

Fighting, awesome mount

Danger

Hostile

Synonyms

Trex, Tyrannosaurus Rex, T Rex, Albertosaurus, Tyrannosaurus
The T-Rex is probably the most well-known and widely used dinosaur.
The T-Rex is also epically strong. It can kill a ninja in one hit. It is hostile so you must use a taming method to be able to ride it. But once you do... man, you'll feel like a badass.
Even being the epic beast it is, the T-Rex is still dominated by stronger creatures, such as the Dragon and Vampire. Yes, Vampire...
Trivia
When you write in Post Two One Seven a picture depicting Edison Yan's interpretation of Post 217 appears. The picture, corresponding to Edison's art, has a T-Rex; contrary to popular belief, Feep did not in fact ride a T-Rex.
Along with a variety of other hostile creatures, T-Rex can cause a glitch when you tame it, ride it, and then use a teleporter or time machine. The screen goes black and never returns. (emulator doesn't)
The T-Rex is capable of devouring the otherwise-invincible Longcat in a single greedy gulp.
Edy is a stronger version of the t-rex with some red accessories.
It can take two fireballs, which are nearly lethal.
There are three objects based off of this, they are robosaur, edy, and fossil (full)
Ad blocker interference detected!
Wikia is a free-to-use site that makes money from advertising. We have a modified experience for viewers using ad blockers

Wikia is not accessible if you've made further modifications. Remove the custom ad blocker rule(s) and the page will load as expected.