Object Information

Name

Susu

Type

Uses

Underwater transportation

Danger

None

Synonyms

Boto, Amazon River Dolphin, Ganges River Dolphin, Chinese River Dolphin, Indus River Dolphin, La Plata Dolphin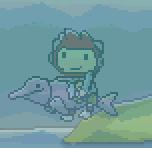 A susu is a small pink river dolphin. It can be used to move around underwater, but be sure to wear diving gear!. It is quite fast. It will attack fishermen.
Ad blocker interference detected!
Wikia is a free-to-use site that makes money from advertising. We have a modified experience for viewers using ad blockers

Wikia is not accessible if you've made further modifications. Remove the custom ad blocker rule(s) and the page will load as expected.