Object Information

Name

Pegasus

Type

Uses

Flying mount, attacking

Danger

None

Synonyms

None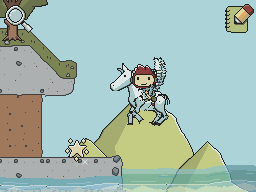 A Pegasus is a legendary flying horse.
It shares many qualities with the pterodactyl, reindeer, sphinx, and roc and is one of the the best ways to fly in the game. It is tame and can be ridden. It can hover, even without a rider. it can hover without falling too, unlike jetpacks, wings and magic brooms. While being ridden, it can be ordered to attack an enemy.
A Pegasus, however, will not fly over lava. Attempting to do so will cause the Pegasus to become scared and uncontrollable.
Ad blocker interference detected!
Wikia is a free-to-use site that makes money from advertising. We have a modified experience for viewers using ad blockers

Wikia is not accessible if you've made further modifications. Remove the custom ad blocker rule(s) and the page will load as expected.