Object Information

Name

Ninja

Type

Uses

Distraction

Danger

Hostile

Synonyms

None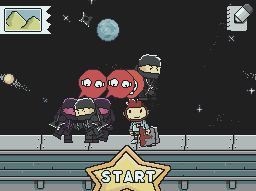 A ninja is a basic enemy in Scribblenauts. He is used in a lot of levels and is not that strong. He can be killed by a T-rex in one hit. He also drops a shuriken when he dies.
He is friendly if summoned via notebook.
Will always aggro against a pirate, but who will win? (Answer: The Pirate. Cutlass beats shuriken. However, if both given the same weapon, they draw.)
Ad blocker interference detected!
Wikia is a free-to-use site that makes money from advertising. We have a modified experience for viewers using ad blockers

Wikia is not accessible if you've made further modifications. Remove the custom ad blocker rule(s) and the page will load as expected.