Object Information

Name

Glue

Type

Uses

See left

Danger

None

Synonyms

Paste, Adhesive, Caulk, Resin, Pitch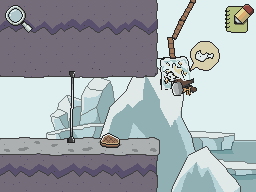 A sticky substance that lets you combine items.
A glue gun shoots one blob of glue.
Uses
Glue a plank to a cabbage, glue the other end to a kangaroo's head. It will hop forward.
Same thing with cop (male) and a doughnut plank.
Glue a propeller to a hat to fly.
Glue TNT to steak, feed to pesky critters.
Glue can be given to the teacher on the school level.
Glue something to Maxwell, and he'll walk backwards in Super Scribblenauts (not sure about Scribblenauts)
Ad blocker interference detected!
Wikia is a free-to-use site that makes money from advertising. We have a modified experience for viewers using ad blockers

Wikia is not accessible if you've made further modifications. Remove the custom ad blocker rule(s) and the page will load as expected.