Object Information

Name

Dragon

Type

Uses

Tame & ride, or slay

Danger

Hostile

Synonyms

Wyvern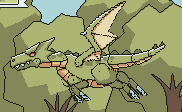 The dragon is a big mean ol' lizard. Good to tame and ride. The Merit "Knight School" is gained by slaying one with a melee weapon. There is also a weapon called dragon. It is a gun with three shots. A Dragon defends the Dragon Egg and becomes hostile if you attack the Egg, even when tamed.
Ad blocker interference detected!
Wikia is a free-to-use site that makes money from advertising. We have a modified experience for viewers using ad blockers

Wikia is not accessible if you've made further modifications. Remove the custom ad blocker rule(s) and the page will load as expected.